Music Trail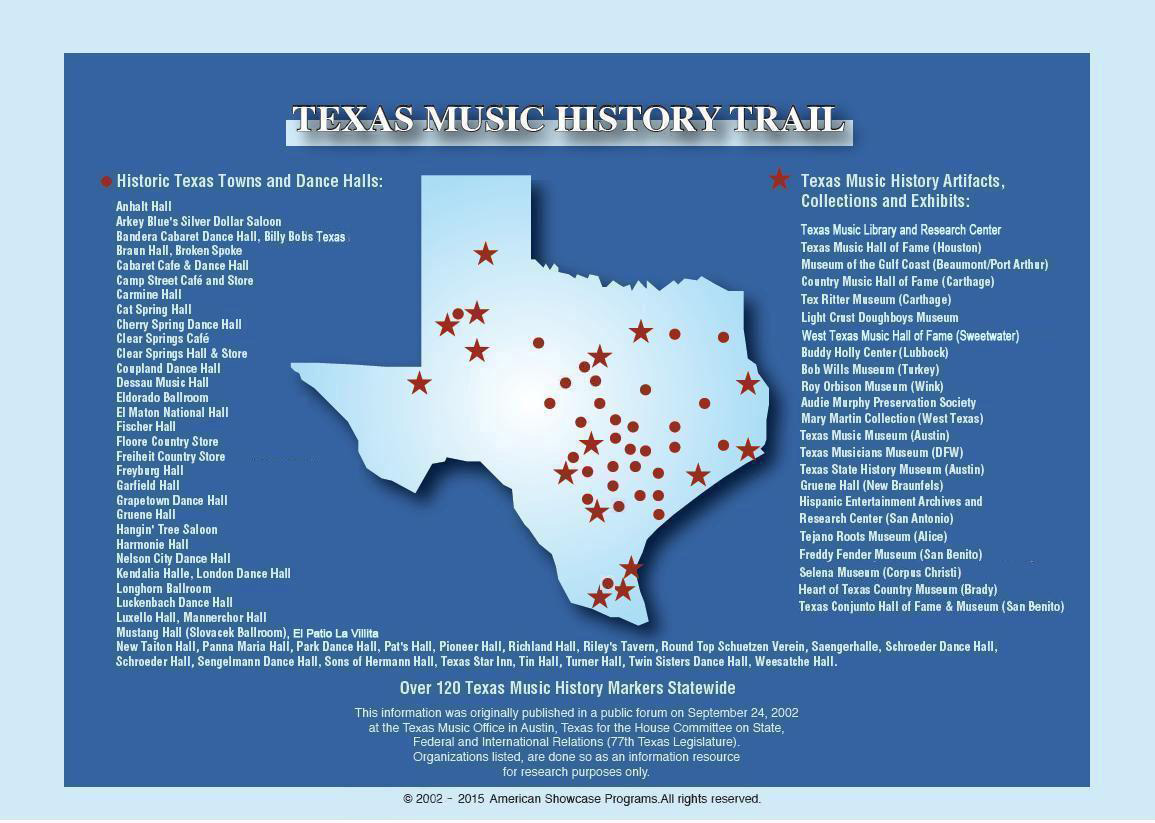 Texas Historical Commission Authority
Texas Government Code, Chapter 442, provides the enabling legislation for the Texas Historical Commission (THC) and defines its functions as an agency. THC is the only state agency authorized to establish, support and maintain museums and to administer the state's heritage tourism programs. Legislation was introduced in the 84th Legislature recommending that authority to THC for music heritage tourism. We'll need another session to get it passed, as it establishes the music heritage tourism industry for the State of Texas. The Senate version of the bill states:
A BILL TO BE ENTITLED
AN ACT
relating to the promotion of tourism related to the musical heritage of this state.
BE IT ENACTED BY THE LEGISLATURE OF THE STATE OF TEXAS:
SECTION 1. Chapter 442, Government Code, is amended by adding Section 422.019 to read as follows:
Section 442.019 TEXAS MUSIC HISTORY TRAIL. (a) The commission shall develop a Texas Music History Trail program to promote and preserve Texas music history.
(b) The program, at minimum, shall include:
(1) designation of locations or organizations that are historically significant to this state's musical heritage;
(2) adoption of an icon, symbol, or other identifying device to represent a designation under this section;
(3) the use of the icon, symbol, or other identifying device in promoting tourism around this state by the commission and at locations and by organization designated under this section; and
(4) the development of itineraries and maps to guide tourists to locations or organizations designated under this section.